Efficient processes simplified: discover our innovative courier and delivery software
Ensure your couriers have precise order details. Our courier and delivery software offers automated dispatching, catering to various courier types
Our transport software automates dispatch operations, boosting your business efficiency.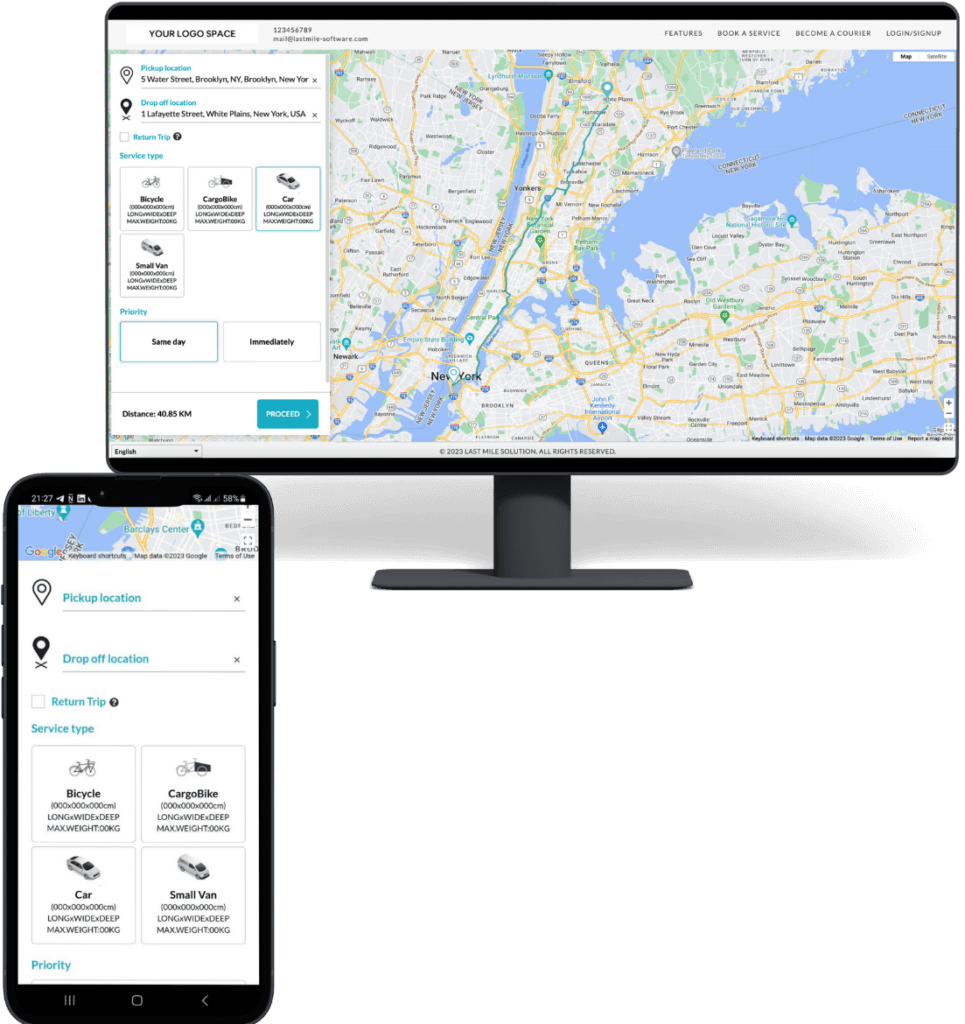 ---
In advance:
Video about the software:
---
Our Software includes:
---
Interactive control panel
Your customer can type in the order themselves …
Your customers input their courier orders directly on your website instead of going through phone operators. Dispatching is handled automatically
-> Demo
Interactive control panel
Keeping everything in sight at all time
With our Dispatch Control Center, you, as an admin, gain a comprehensive view of your entire courier fleet and maintain total authority over all orders. Whether it's assigning jobs to specific couriers automatically or manually, you're in charge. We provide a variety of tools and automations to simplify your operations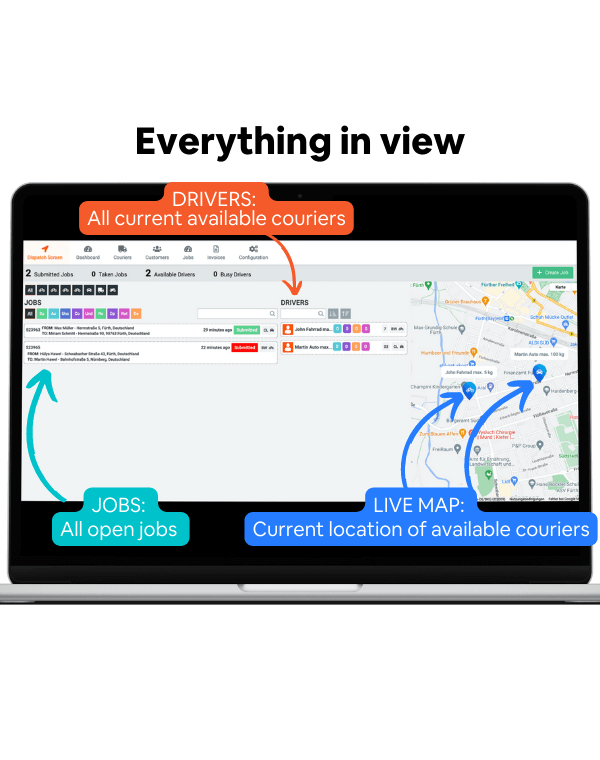 Courier App
Order information for your couriers
Your couriers receive clear instructions via the app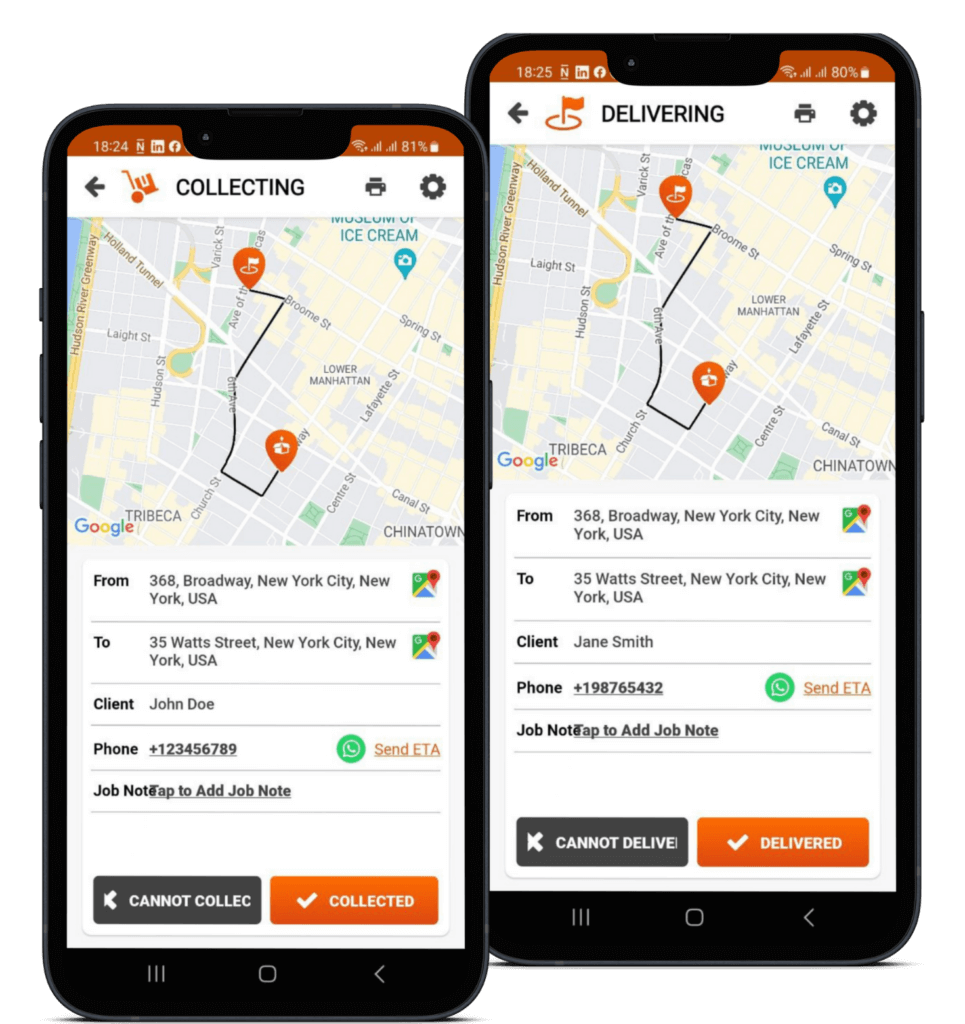 Navi
Navigation made easy
seamless navigation for couriers, powered by our trusted partner: Google Maps
Courier informs about the time of arrival
Message indicating the estimated arrival time
The courier gets detailed data on distance and travel duration, enabling them to provide customers with accurate arrival estimates. Customers receive these updates conveniently through SMS or emai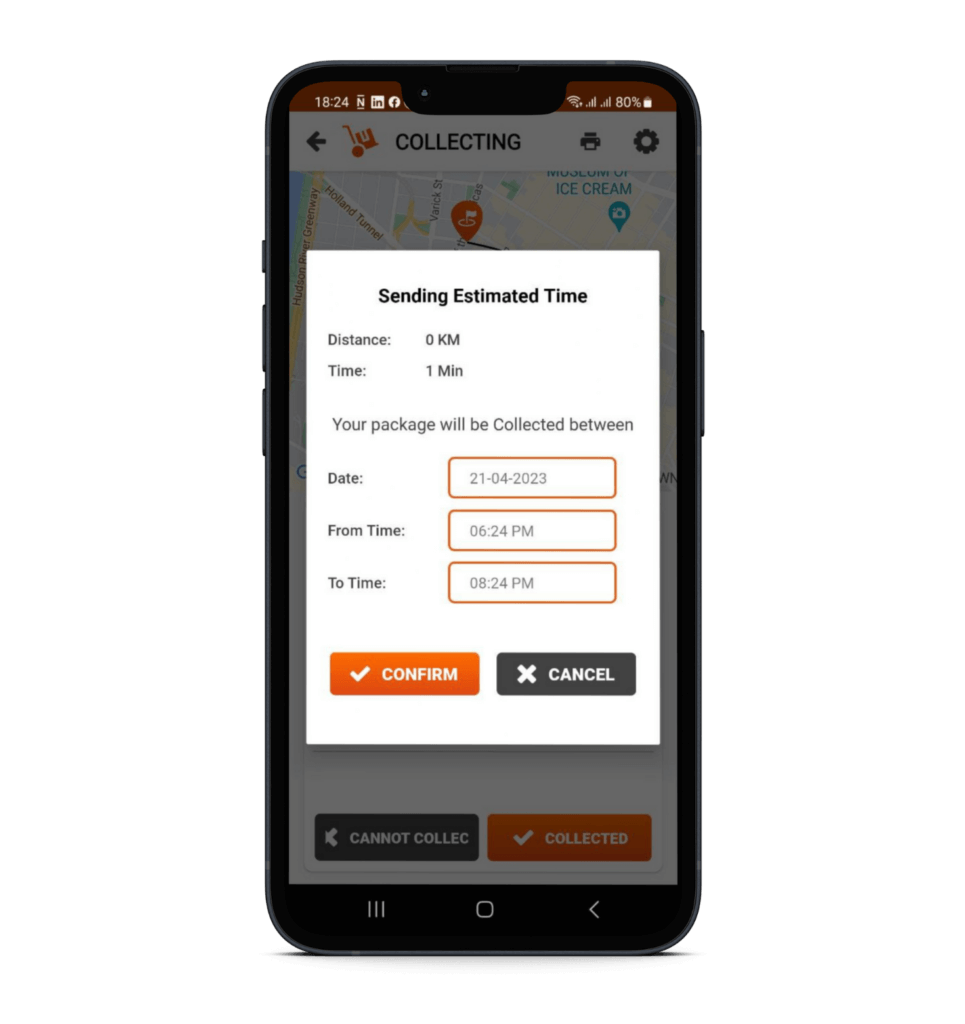 Acknowledgement of receipt
Proof of delivery
Compliance with regulations is ensured through this system. You or your courier can generate proof of delivery, requiring the recipient's signature on the courier's mobile device upon successful delivery. Following this, the customer promptly receives a notification via SMS or email confirming the successful delivery.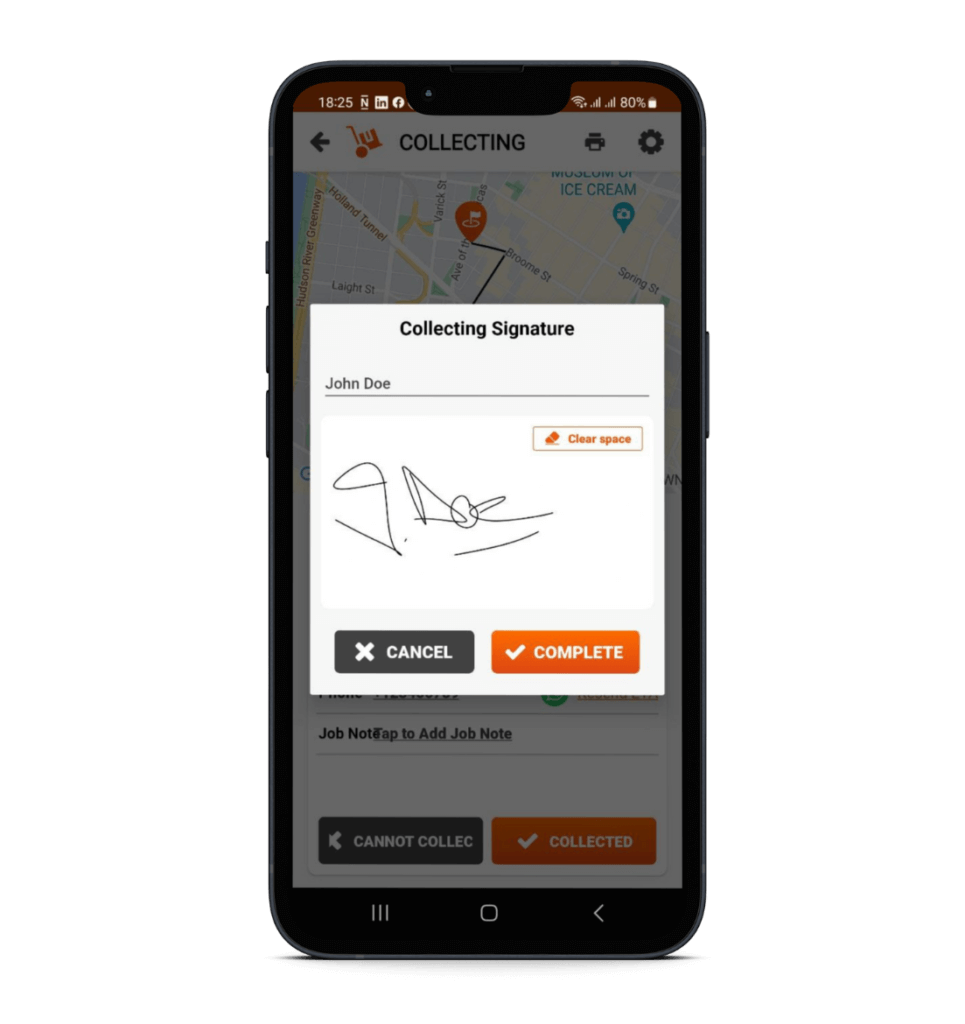 Mobile Courier APPs
Your couriers will use our mobile APPs to process orders, optimize their route, track revenue and more.
Live-Tracking
Your customers can track their packages online. The system sends your customers links as part of their confirmation emails. They can even track the live location of their package
Flexible pricing
We provide you with tools to flexibly price your delivery orders. Based on distance, based on map zones or agreed prices between specific addresses.
Automatic dispatch
We offer a tool called "Routes" that allows you to automate your shipping. Jobs are automatically assigned to available drivers based on the location of your jobs' pickup or drop-off points.
SMS / WhatsApp / Email updates
Our system keeps everyone informed through various communication channels, while you have control over all templates.
E-commerce integrations
We are currently expanding our range of e-commerce API integrations so that you can automatically accept jobs directly from any number of online stores.
The all-in-one courier software & app for your business
---
Courier Software
Whether you run a small or large courier company, you need automated systems to help you handle the complex and dynamic needs of delivery seamlessly. Courier software is an automated system equipped with features and tools to manage parcel delivery services for operators, drivers, and customers.
But not all Courier software is built the same. This article will introduce you to the features and benefits of Courier Software, a cutting-edge courier software designed to simplify your workflow, optimize routes, and enhance customer satisfaction. Delivery Courier Software is an easy-to-use solution that can scale your courier business operations without reducing service quality.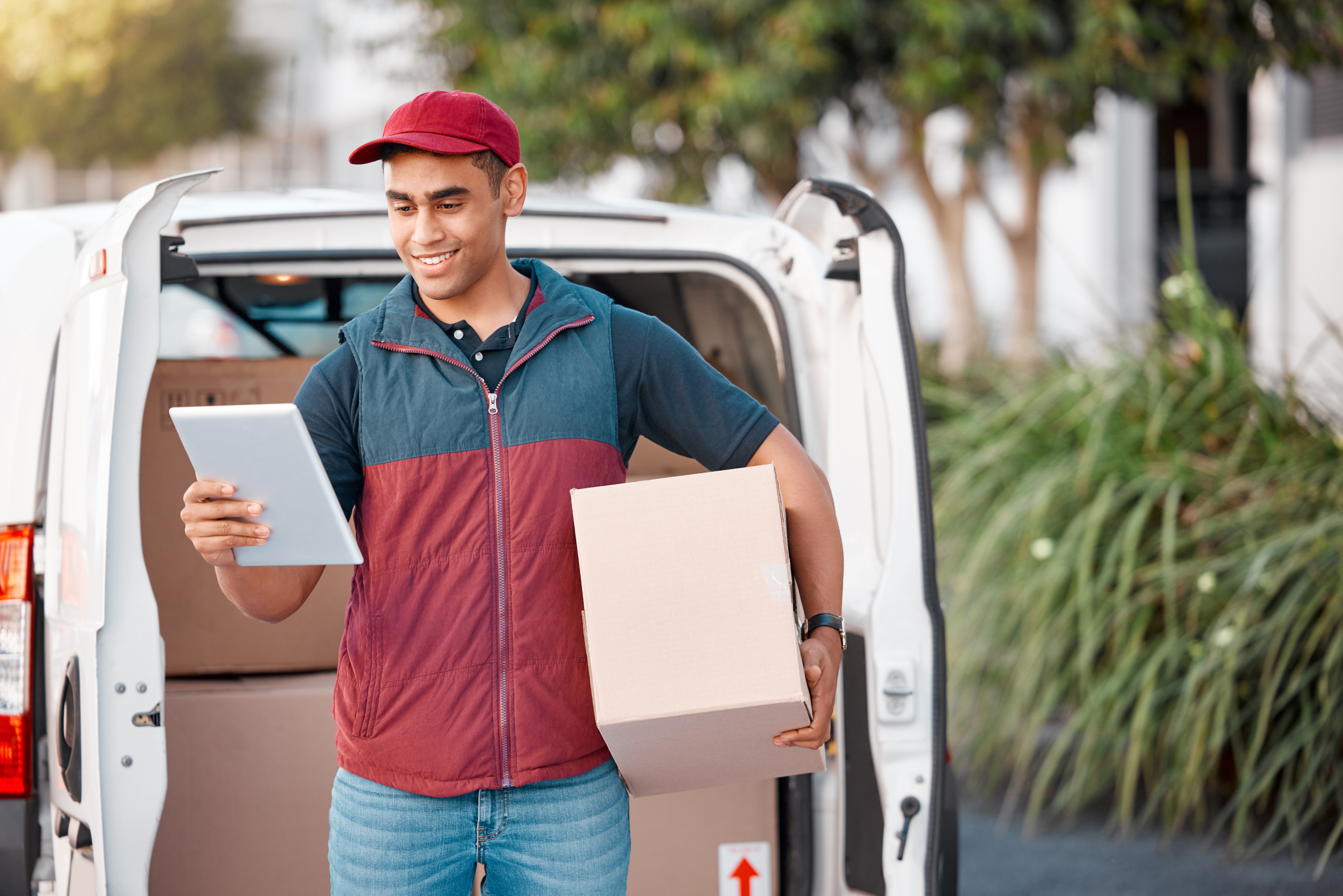 Comprehensive & Flexible Courier Software
One of the biggest challenges of running a courier service is to assign the right jobs to the right couriers at the right time. You need software that can automate the dispatch process and optimize the routes for your drivers. The Courier software should adapt to your changing needs and preferences, such as different pricing models, service levels, and customer requirements.
Without proper management, delays, missed deliveries, and dissatisfied customers become recurring nightmares. This is where a comprehensive and flexible courier software solution like Delivery Courier Software becomes indispensable. The courier software offers a wide range of cutting-edge features to make your courier service more efficient, reliable, and profitable operations. They include:
Full Customer Dashboard: Stay connected with your customers and provide them with real-time updates through our intuitive customer dashboard. They can easily track their deliveries, access delivery status, and communicate with your team.
Online Live Tracking: Keep an eye on every parcel's journey using our online live tracking feature. Gain complete visibility and transparency throughout the delivery process, allowing you to address any issues that may arise proactively.
Automatic Proof of Delivery: Eliminate paperwork and manual processes with our automatic proof of delivery feature. Capture electronic signatures, photos, and delivery timestamps for seamless record-keeping.
Interactive Dispatch Screen: Effortlessly manage and assign tasks to your couriers with our interactive dispatch screen. Visualize routes, optimize schedules, and allocate deliveries efficiently, ensuring timely and accurate service.
Mobile Courier App: Empower your couriers with our mobile app, enabling them to receive real-time updates, navigate efficiently, and update delivery statuses on the go.
With Delivery Courier Software, you can use these innovative features to improve your courier management system. The features equip you to adapt to the changing needs and preferences of your customers and handle the challenges of courier services, such as dispatching, tracking, and invoicing, more efficiently and flexibly.
To see for yourself how our offer can transform your courier business, sign up for a 1-month free trial and get a tailored solution for your needs. Just fill out the contact form and prepare to zoom ahead of the competition.
[Infographic]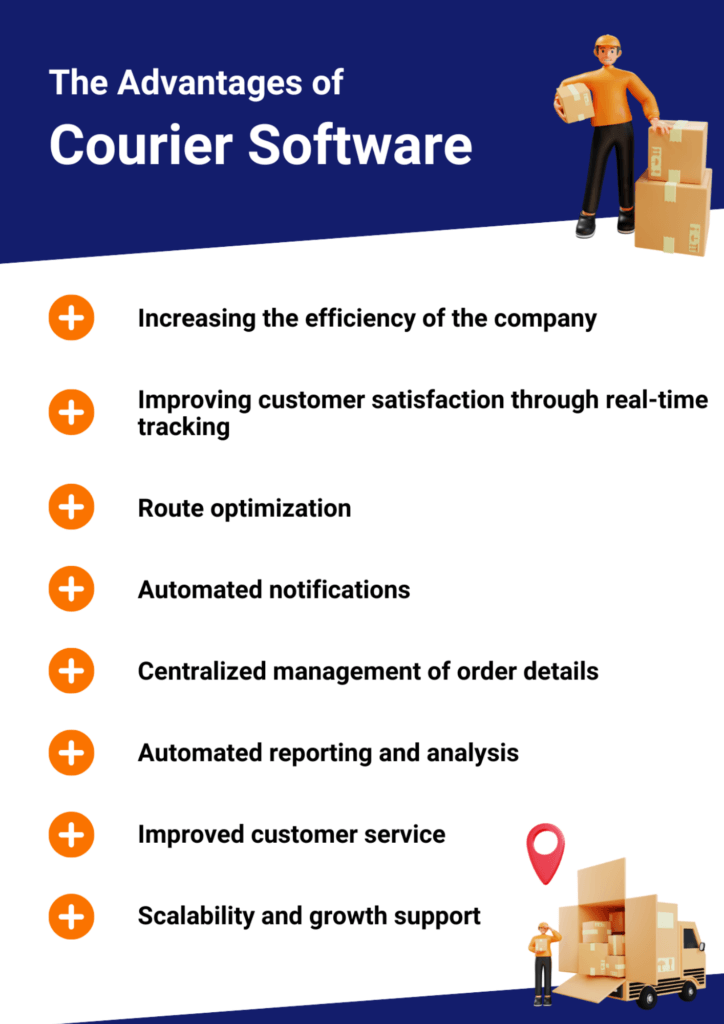 Enhanced Communication and Integrated Operations
Our software offers different features that ensure your communication with drivers and customers is efficient and seamless. You can harness these tools to integrate with external e-commerce platforms for convenience in your operations. Some of these features include:
SMS/Email Updates: Communication within your courier operation stakeholders must be effortless for seamless delivery. The Zoom software SMS/Email updates feature allows you to keep drivers and customers informed in the delivery process. You can customize the messages to match your brand voice. The update feature is important to foster transparency and remove uncertainties in your delivery process.
Whatsapp Integration: Customers who prefer WhatsApp should not be left out of the communication loop. Zoom software can integrate with Whatsapp to send delivery updates to your customers. You can now send ETA collection via WhatsApp, which customers open and engage with more than email and SMS. Using a familiar and convenient platform like WhatsApp to communicate with your customer builds trust and improve your brand experience.
Crowd-sourced Couriers Operation: The Zoom software has a mode for crowd-sourced couriers. In this mode, your couriers are self-employed drivers who bill your customers directly while you charge them a commission for each delivery. This model allows you to scale your workforce and reduce overhead costs and risks by outsourcing the delivery process for the crowd without reducing service quality.
Signing up for Courier Delivery Software alias LastMile Software is easy. There are tutorials and email support to get your drivers and customers started smoothly. After successful onboarding, you are set to experience the power of advanced features that will enhance your operations. Here are more reasons to migrate to our Software.
An API for every channel and use case
Having an API for every channel and use case is essential for seamless integration and customization. Courier Delivery software can integrate with your existing systems and applications, such as e-commerce platforms, accounting software, and CRM tools. You can also customize the software to fit your specific needs and preferences.
Scale channels effortlessly
As your business expands, it becomes crucial to scale your channels effectively. Courier Delivery Software manages multiple channels of communication and delivery. You can send and receive orders, notifications, and feedback via email, SMS, web, or mobile app. You can also track and monitor your deliveries across different modes of transportation, such as bike, car, or truck.
Cloud-based courier software for your business
Cloud-based software eliminates the need for manual installations and ensures seamless updates, saving you time and effort. With Courier Delivery Software, you can access your system securely from anywhere, allowing you to manage your operations remotely and conveniently.
This accessibility empowers you to monitor deliveries, coordinate routes, and track performance even when you're not physically present at the office.
Conclusion
We offer a comprehensive and flexible solution that can help you manage your courier business efficiently and effectively. Whether you are a new or existing courier service provider, you can migrate to our Delivery Software easily and enjoy its innovative features and benefits. Contact us today and get started with a 1-month free trial.
Contact
Try our Courier Software